Same-Day Junk Removal–What Are Your Options?
The Convenience of Same-Day Junk Removal
Sometimes, getting rid of junk isn't something that can wait. Sometimes, you need to get rid of your junk right away, and you don't have time to wait! Consider the following scenarios where someone might need same-day junk removal services as soon as possible.
Your refrigerator has broken and you have a lot of food that needs to be moved to a new refrigerator right away. You have already purchased a new refrigerator at an appliance store, but now, you need help getting rid of the old one to make room in the kitchen.
You need to move out of a house by the end of the day, but you've discovered that a heavy entertainment center that you have upstairs is more difficult to carry than you thought. Someone needs to help you out by providing same-day furniture removal, and you need it ASAP.
A renovation project you did over the weekend has resulted in piles upon piles of construction debris, but you're expecting guests as soon as tomorrow. The house needs to be in tip-top shape for them, but there's an overwhelming amount of debris on your hands.
Now that you've considered the scenarios above, the importance of same-day junk removal is obvious. It's especially important when you factor in the fact that we live in the Las Vegas area, one of the busiest places on Earth. Here, there is no shortage of guests in our households. There is always something to do at work, too, so there's no time to waste on junk removal. There's also the real estate angle. If you are a Las Vegas realty company, you are going to want junk removal fast so you can clear out foreclosed or evicted properties and put them back on the market.
Same-Day Junk Pick Up Options
When you need to get rid of junk by the end of the day, what are your options? Of course, you could always rent a truck and take it to the landfill on your own, right? There might be complications with that. You can probably imagine do-it-yourself junk removal is a very time-consuming process. Need to empty out an entire house's worth of junk? Then plan to be hard at work all day long. By the time you're done, you'll have to sit in line at the landfill, too. Talk about a pain.
Don't want to bust your back doing junk removal on your own? Then you should consider a full-service junk removal company. What these companies do boils down to this: they personally haul away all your junk, load it onto their trucks, and then dispose of it for you. These companies have teams of several workers, so they can complete the work much faster than you could have on your own.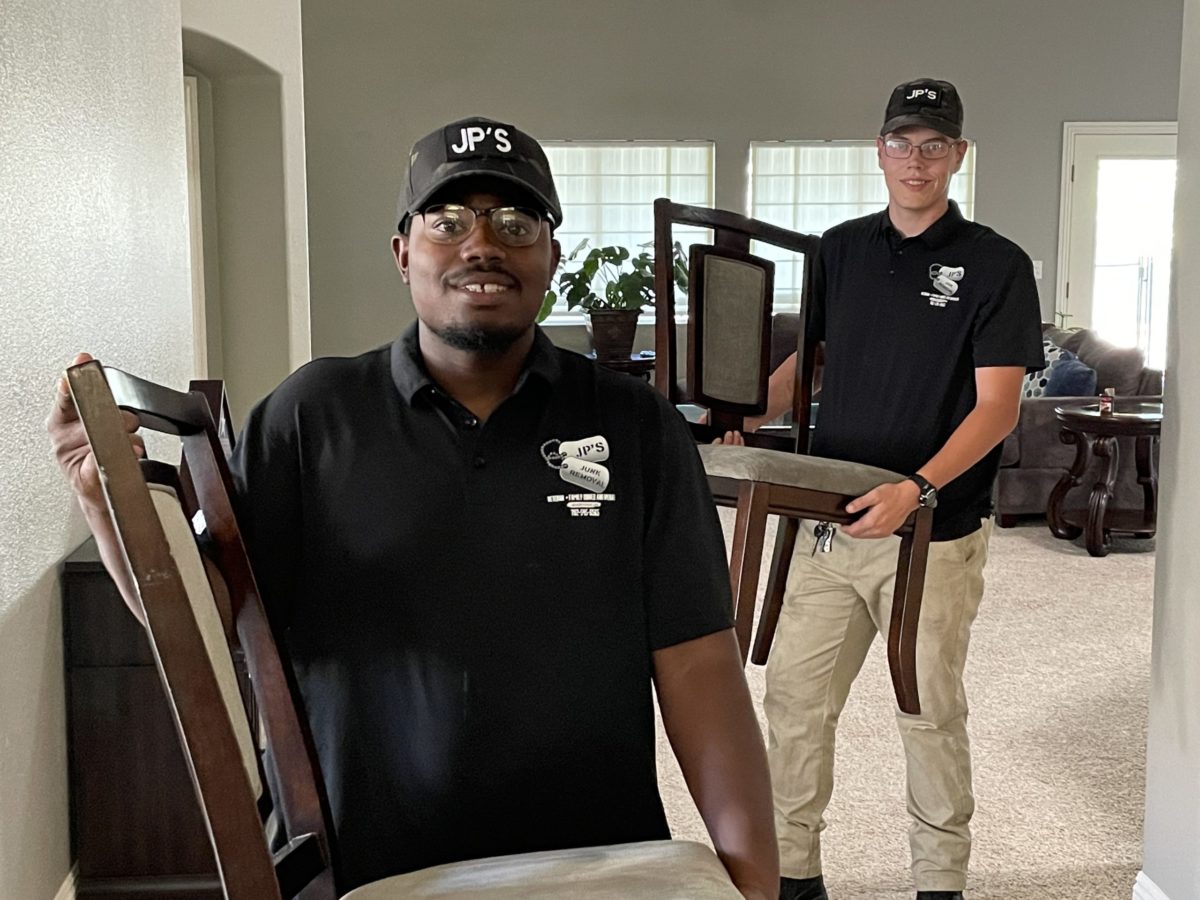 The Greater Las Vegas Area has many junk removal companies that are ready to serve you as soon as today. Here is a selection of them:
JP's Junk Removal. That's us! We are open seven days a week, and our crew is ready for same-day junk removal.
Junk Masterz. This locally owned business in the Las Vegas area can serve you today when you need help urgently.
1-800-GOT-JUNK? This famous junk removal franchise operates in our community and many others as well.
Junk King. Another franchise business that will haul away your junk for you. No need to wait until tomorrow.
Whichever company you choose, you can rest easy knowing that unwanted junk won't be your problem for long. Our clients tell us that receiving same-day junk removal is like having a weight instantly lifted off their shoulders. Want to end the stress of knowing there's clutter that needs to go? Then we recommend you book same-day junk removal today. That way, you can stop stressing over junk and get back to life!
Our Services