Demolition Services in the Las Vegas Area
Looking for a trustworthy demolition company near you? It's time to get in touch with JP's Junk Removal! Our selective demolition services are what you need if you have any sort of unwanted structure.
PROFESSIONAL DEMOLITION SERVICES
Sometimes, we decide that we don't want a structure on our property anymore. Some examples of this include when a hot tub goes unused for years, when a shed is on the brink of collapse, or when a fence is filled with holes and gaps. However, you're not a demolition contractor. Chances are, you can't do this work on your own. Fortunately, you don't have to thanks to the demolition services offered by JP's Junk Removal!
We are happy to serve the people of Las Vegas and other nearby locations. If you have a small structure on your residential property, commercial property, or somewhere else, and you'd like it to go away fast, then we're the key to making that happen. What's more, we can make it happen fast. Get in touch today and ask about our same-day and next-day appointments!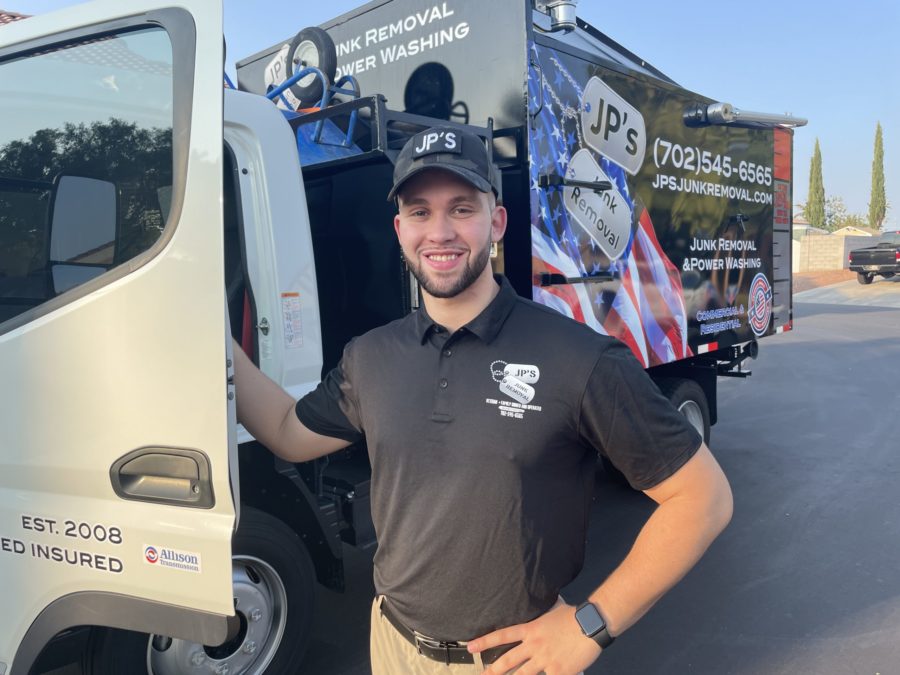 Why Our Demolition Services?
Demolition is one of those jobs where things go wrong, they go really, really wrong! Think about the worst-case scenario: a structure could collapse unexpectedly, causing not only property damage but perhaps even personal injury. This is why it's important that you choose a company you can trust, and JP's Junk Removal fits the bill. Our demolition services are carried out by professionals you can trust. We've demolished all kinds of structures, so whether you need to get rid of a pool, a garage, or something else, we can make it happen safely and quickly. We are fully insured, too, meaning you risk no liability!
Our crew understands that no two demolition projects are alike. That's why we'll always take some time to examine the structure you want to get rid of. How is it constructed? What is holding it together? Where should we begin our demolition? These are questions we will determine the answers to before getting to work. That way, the demolition process gets done with no hassles and no accidents.
JP's Junk Removal is the best option for demolition services near you. We've got a lot to offer, and we want to show what we can do for you in person! Of course, in order to do this, you'll need to schedule an appointment. There are two ways to do this. Either contact us online or call us at 702-545-6565. We are looking forward to confirming your appointment details!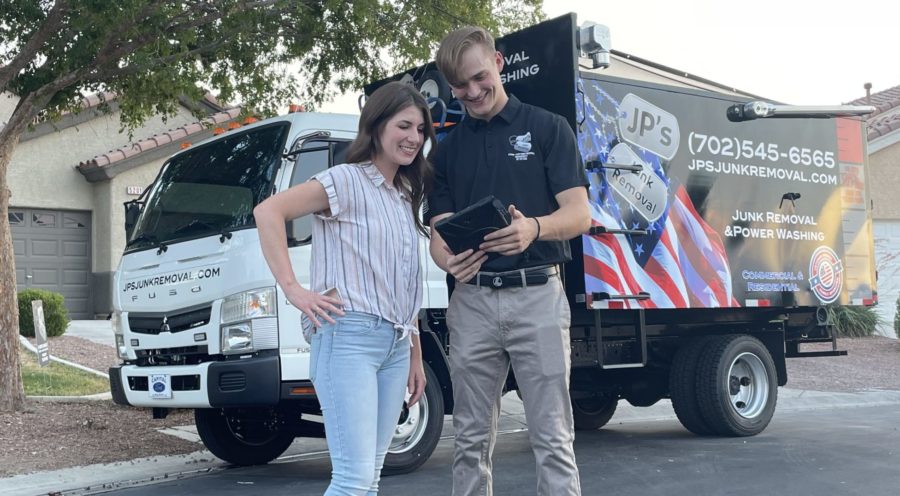 How Our Demolition Services Work
We will give you a courtesy call fifteen minutes before our arrival. That way, you'll know when to expect us. Don't silence your cell phone!
After we arrive, we'll check out the unwanted structure, plan how we'll demolish it, and then ask you to approve our upfront service quote.
Stand back as we tear down the structure. Once we've brought it down, we'll start picking up the debris and loading it onto our junk removal truck.
Finally, we will take your payment and get out of there. Don't worry about disposing of the debris—we'll take it to a nearby landfill so you don't have to.
Hot Tub Demolition in Las Vegas
Hot tubs are a great way to relax—that is, unless they're dirty, grimy, and covered with cracks. Chances are, you won't be getting any relaxation done in a hot tub like that. You might have considered getting rid of the hot tub, but something made you cancel those plans. Maybe it's because the hot tub is too large, or perhaps it's because the hot tub is embedded into a concrete platform. How will you ever make that hot tub go away? With our hot tub removal services, of course!
All we ask is that you drain the hot tub, then disconnect it from power and plumbing. If you can handle this, we'll do all the rest of the work. We'll bring along all the tools we need to remove the hot tub. The easiest hot tub removal jobs consist of us just lifting it up and hauling it to our truck. However, we often find that we need to cut the tub into pieces to make it easier to remove from the property. In the case that the hot tub is embedded in concrete, we'll use tools such as diamond blade saws and sledgehammers to remove the concrete as well!
About Us
JP's Junk Removal is the local company Las Vegas counts on for demolition services and junk removal services! We are a veteran-owned business—our founder served our country, and now we're going to serve you. Choose us for an experience that beats what the competition can offer. Between our fair prices, our friendly faces, and fast results, you'll be sure to love what we do for you!
What Our Customers Have to Say
Most professional and responsive communication from the beginning. I received a quote over the phone, I was conveniently given a date and time we could have the job done.They were on time, their overall presentation was fantastic and well presented. The job took more than I conveyed but they took it on, it cost a bit more and rightfully so, but they were a great working team and found solutions on the spot for getting it done! So impressive! I have used others in the past and they were horror stories which is why I didn't reuse them. These guys are a keeper and I highly recommend their great service! Thank you so much for taking my junk!

John and his assistant were wonderful! So very professional. I feel like a weight has been lifted after they took away all my junk. I will definitely be referring friends/family. Excellent service and very reasonable pricing.

I would give 6 stars if I could! Absolutely amazing service – they truly went above and beyond to help me. I felt awful that they had to maneuver massive pieces of commercial restaurant equipment throughout out our garage, but they did EVERYTHING – they moved furniture and various storage around to get all of the items out. I didn't lift a finger! They even helped me get my very broken garage door back into place. They truly offered a concierge service at an extremely fair price. I would use them again in a heartbeat!!

They took over 26 years of accumulative junk. I underestimated how much it was. Thanks John for a great job and speedy service. It sure took me longer to pile that much… you guys removed it very efficiently. Thanks again

This family owned business displays the core values of hard honest work for an honest price! I hired this company to remove spring cleanup junk from my property. Their performance and quick cleanup was amazing! I highly recommend their services as a homeowner who has previously hired an overpriced popular company for the same service.

Price and efficiency from this company is unparalleled!
Left the area of pick up so clean!
I would not second guess my decision to hire them again for junk removal!

In process of moving had a Large amount of debris, trash,
And mattresses that Republic Services didn't take. Had to get it gone in a hurry JP and his crew came right out picked up save the day. Will definitely be recommending them and using them again for when my mom moves. If you looking for a company to remove unwant items I recommend JP.

They were very prompt and super fast picking the junk I had in my home. Super professional. I will definitely be using JP's junk removal again. Thank you very much

I am very pleased with the service I received from JP's. Great communication, on time and moved everything as promised. I will definitely call on JP again .

HIGHLY RECOMMENDED! Jean did an amazing job on a tight time frame, and the price was very fair. He is as kind and compassionate a person as you will ever find. My brother's apt was robbed and then trashed by squatters beyond recognition and salvation while my brother was in the hospital, and by the time Jean was finished, it was clean and clear. He was punctual for both the estimate meeting and the job. He recycles what he can, which also made me feel good. It was a horrible situation, but I'm proud to have supported such a great person and business.
Our Latest Posts